Religious Education Frequently Asked Questions
---
Entering the Building
Students will enter through assigned doors to break up some of the congestion at the beginning of class.  Please stay in the assigned area till the bells ring.  When the bells ring, the students may proceed to their assigned rooms. Staff and volunteers will be present to guide the students. (See map below)
Gathering Space – Grades 4, 5, 6

Commons – Grades K, 1, 2, 3

East Door Commons – Grade 7, 8 (use back staircase to go to class)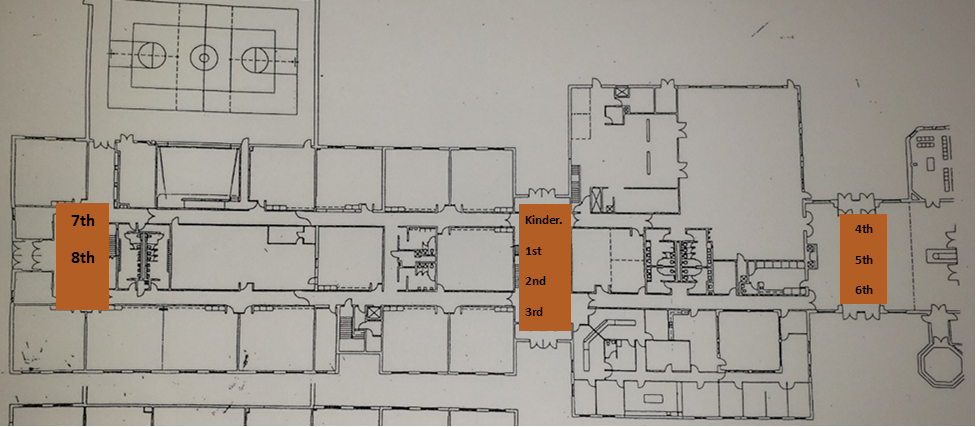 ---
Attendance
Call or email in advance if your child is unable to attend:  RE.attendance@stephen.org or (402) 896-5683.  Please use this email for attendance purposes only.  It does not get checked except before class time.

If no message is received in advance, we will call home if a student is marked absent. 

Please update us with contact information if it has changed since registration.

Students arriving late should always check in at the Rel. Ed. office before heading up to class so they are not marked absent.
---
Dismissal
Students in Kindergarten through Grade 2 need to be picked up in their classroom by a parent or guardian.  They will not be dismissed to leave on their own.
---
Covid Update (2/20/2022)
A mask-optional policy is now in effect. The new mask-optional policy will also allow families to choose whether they would still like their child to continue masking for class. We are grateful for the support our Religious Education families have shown us as we've tried our best to navigate through this pandemic. We understand for some the new policy provides relief and for others, it may create uneasiness. Please know that your student's best interest has been and will remain our top priority.